Quick live chat conversation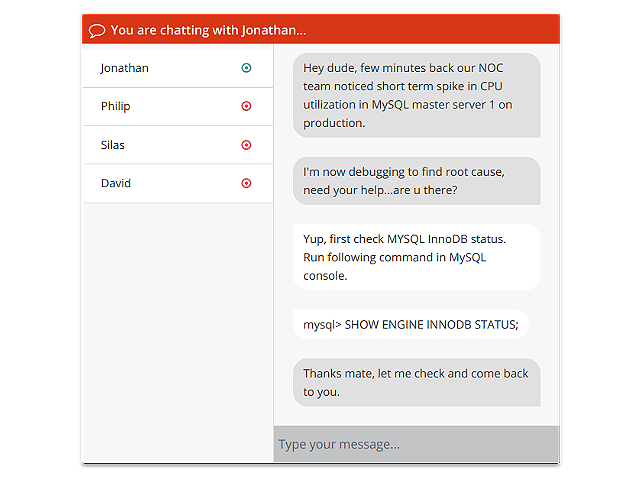 Avoid multiple chat apps for team conversations
Every organization is divided into multiple teams. Usually, every team within the organization uses their own desired chat app to make conversations. It becomes more difficult to organize and track conversations across multiple chat apps. As your team size increase, the monthly subscription charges will increase. You can use SloopEngine's live chat feature for team conversations and stop paying money for multiple chat apps.
Security risks associated with third-party chat apps
Using third-party chat apps has its own potential security risks. Usually, the team conversations are stored on their database servers. Your team conversations could be leaked if their servers are compromised or hacked. Unfortunately, if you use a less secure and vulnerable chat app, there is a high possibility of compromising your sensitive data such as passwords, keys, credentials, etc.
Use live chat during production outages and server downtimes
SloopEngine live chat feature could be used to assist your fellow team member while performing live SSH auditing on production servers. You can instantly share ideas, shell commands, suggestions, questions, etc., with team members. The live chat feature will be much helpful for your team during production outages and server downtimes.